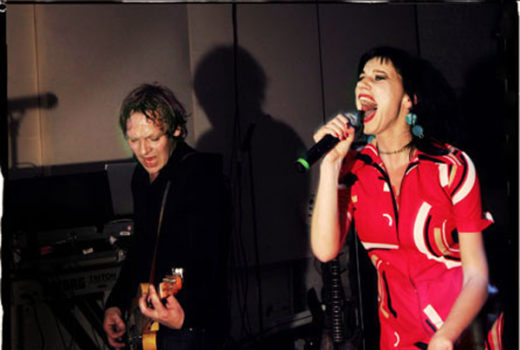 I really am a sucker for this stuff
DUGGUP
Irya Gmeyner – My Angel
By thatch • Mar 2nd, 2008 • Category: Alternative, Music, Pop, Rock.
Irya Gmeyner's song "My Angel" has been bouncing around on my MP3 player since around October last year. It's a tricky one, I haven't been able to make my mind up about it. There is no doubt that she is a talented songwriter, has a killer band and a really interesting voice (I keep thinking it reminds me of Nico and the Velvets meets Blondie).
She spent her early years in Newcastle, England; then moved with her English parents to Sweden and returned as a teenager, making a living as busker playing balalajka in the streets. In the evenings she played at the local pub, Acorn in York. Then after a year or so it was back to Sweden to start a band.
What I now find amusing is that while I have been dithering about whether or not I like the song, she has gone an released an EP of arguably better songs, that'll teach me to not be a bit more decisive.
I have finally released my new EP "The Basement Takes From Textilgatan 7″ on my own label Byker Wall together with Universal Music.
"The Basement Takes From Textilgatan 7″ is a pun between Bob Dylans world and the basement in Stockholm where we actually recorded the songs.
Most of the songs are taken from the very first demo sessions. We kept everything that we thought had the right expression and feeling and then we played around with it and added sounds and what we thought was necessary for the song.
Head over to her MySpace site at www.myspace.com/iryamusic and listen to "I Know What I Want" it's a nice piece of pop production, the guitar drives it along and the electronics provide a suitably European atmosphere. I really am a sucker for this stuff.
Her websites are at myspace.com/iryasplayground