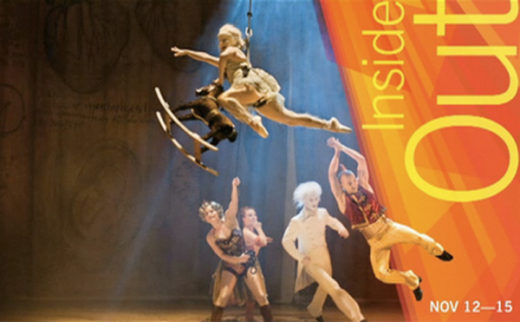 Inside Out take Brooklyn.
Cirkus Cirkör and Inside Out take Brooklyn.
The Swedish traveling troupe, Cirkus Cirkör had their US debut at BAM in Brooklyn last weekend. Experiencing this "Little Circus That Could" was a relevation, not unlike discovering a diamond in the ruff. Their inspired mini-extravaganza, Inside Out, proved to be a genuinely original, hip, artsy Rock n' Roll Circus, with a fabulous ensemble of performers – including multi-talented aerialists, jugglers, acrobats, mimes, contortionists, clowns and musicians.
Going deeper and darker than their more-well-known competition, Cirkus Cirkör's highly creative and compelling production featured recurring themes about the realities of life – and death – and how one must face their own fears to really live. When combined with the troupe's creative less-is-more, "let's put on a show!" DIY theatre vibe, Inside Out was an exciting, uplifting, life-affirming experience – both visually and emotionally – set to the driving rhythms of Irya's Playground, a great, real Swedish rock band — who could have been a fabulous show by themselves.
Irya Gmeyner, the band's captivating lead singer (who is originally from Britain), sounds like a younger, energized Marianne Faithful. Dressed like a classy 1960s Las Vegas showgirl with a Fender Telecaster slung around her neck, she definitely hits the high notes, as does the hard-driving yet understated group of seasoned, pro musicians.
Cirkus Cirkör's trained troupe of skilled circus professionals were equally fun, charismatic and a joy to behold – still maintaining a personable, down-to-earth energy – like people you would like to hang out with and know. 

If you ever enjoyed Cirque de Soleil and wish you could go back in time and see them before they got so corporate slick, expensive, new age-y and full of themselves – you will fall in love with Cirkus Cirkör – like much of the audience did last weekend at BAM. Hopefully someone will have the good sense to book them for at least two weeks next year.
LABELS: BAM, CIRKUS CIRKOR, IRYA GMEYNER, IRYA'S PLAYGROUND, SWEDEN