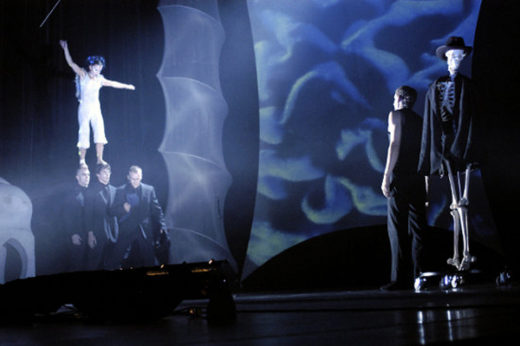 The result knocks you sideways
Inside Out
Published Monday 19 October 2009 at 10:15 by Liz Arratoon
There should be a law against reducing the visual splendour of the Swedish company Cirkus Cirkor's show, Inside Out, into mere words. With a gossamer touch, director Tilde Bjorfors has devised the most gorgeous concoction, a perfect blend of contemporary and traditional circus, interspersed with filmed sequences and infused with the flavour of Tod Browning's film, Freaks. The result knocks you sideways. From Fredrik Deijfen's sublime chair-balancing albino ringmaster – in white tophat and tails – to Angela Wand's weird and wizened bearded lady, the production is an unerring delight.
A simple, humourous and joyous story of daring to follow your heart's desire unfolds on a set that fuses anatomical drawings with an ethereal image of a big top, props of bouncy red and white blood corpuscles and a massive red heart. All the acts – including Andre Farstad on Cyr wheel, hand-balancer Jens Engman and Anna Lagerkvist on Chinese pole – are brilliant, but Mirja Jauhiainen and Sanna Kopra's catches and releases bring an added frisson to their routine on static trapeze, and Jay Gilligan burns up the stage with his scintillating juggling number.
In a prime example of what live music does for a show, the rock band Irya's Playground – led by the exquisite chanteuse Irya Gmeyner and Pange Oberg – sit down-stage, enhancing and matching the action, note by note, beat by beat.
Inside Out achieves what every circus must surely strive for – to be beautiful, funny and clever, without letting the effort show.